EPISODE V: THE EMPIRE STRIKES BACK
Used by: Bossk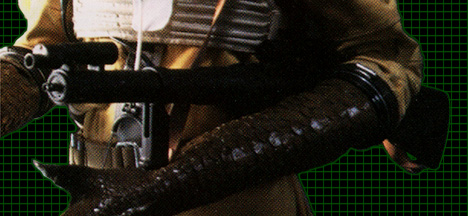 ---

The reptilian bounty hunter is armed to his pointed teeth with this impressive weapon. A British Schermuly anti-riot gun was modified to become Bossk's micro-grenade launcher. Little was done to this gun so as to avoid any permanent modifications. Like many of the real weapons used in Star Wars it was only rented from the prop company in England.


Schermuly Anti-Riot Gun
The Schermuly anti-riot gun is a multi-purpose, single-shot smoothbore 38mm caliber gun. In it's standard configuration as seen above it fires anti-personnel ammunition such as plastic batons. For other applications it could be fitted with an adaptor barrel to fire shotgun ammunition or a cup discharger to launch tear-gas grenades. These accessories were not used for the movie prop.
Technical Info:
Weight: 3.35kg (loaded)
Length: 32.6 inches overall
Barrel Length: 14.7 inches
Caliber: 38mm
Mounted on the top of this gun are two M38 or M40 azimuth tank telescopes. These scopes were manufactured in 1943 by Minneapolis Honeywell Regulator Co. Many different types of these small brass telescopes were produced by M.H.R. and can be also seen on E-11 and DL-44 type blasters. The scopes went through a small design change from 1942 to 1943. The 1943 model is the correct one for this prop and can be identified by the upside down "T" shape of the front mount.


1943 M 40 Azimuth Scope
The barrel of the gun was capped off with a part from a Revell V-8 model engine kit. The piece is part #43, the timing gear from the front of the camshaft. A tube shaped piece with an oval hole through it forms the tip of the blaster. This part is yet unidentified but resembles a gun's flash hider.


Timing Gear from Revell Visible V-8 Engine