EPISODE V: THE EMPIRE STRIKES BACK

Attire:
Blue Jacket
White Shirt
Brown Pants with Yellow Corellian Blood Stripe
Black Belt
Gun Belt with Holster
Black Boots

Accessories:
Droid Caller

Weapons:
BlasTech DL-44 Heavy Blaster Pistol

---
THE BOOTS
Like many characters in Star Wars, Han wears black riding boots with the smooth dress finish.
Shown above are East German military riding boots, however Han's boots fit tighter and were taller. Most likely they were commercially made equestrian boots.
---
THE BELT
A standard military issue black belt with three sets of holes running the length of the belt.
---
THE GUNBELT
The leather gunbelt with holster appears to be entirely custom made.
One item on the gunbelt is half of a carburetor from a Revell V8 visible engine model kit.
Two piston halves from this same kit are used on Han's DL-44 blaster.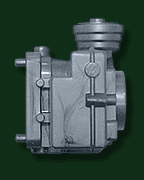 Part #52 - Carburetor (rear half)
The item next to the model part is not yet positively identified. It can be seen in the photo below and appears to be an electronic component, possibly a capacitor.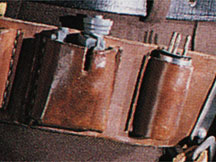 ---
DROID CALLER

---
WEAPON
BlasTech DL-44 Heavy Blaster Pistol