EPISODE IV: A NEW HOPE
Used by: Darth Vader




---

"Strike me down and I shall become more powerful than you can possibly imagine"
- Obi-Wan Kenobi
And so Darth Vader vanquished his former Jedi master with a single slash from his crimson blade.
The Dark Lord's lightsaber, like his former weapon passed onto his son, was made from an antique press camera flash. This 3-cell unit was an MPP Microflash manufactured by Micro Precision Products of England.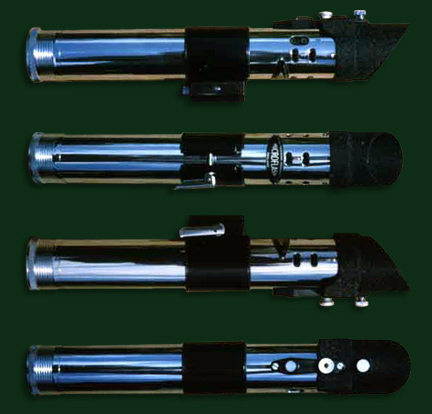 MPP Microflash - photo: Laszlo Beckett
The flash shown features black sides on the "box" of the clamp. This is a minor variation in the MPP flash. The A New Hope Vader saber shown at top has chrome sides. The Empire Strikes Back version has black.
The MPP's clamp was broken, so to tighten it the prop builders put a large flat head nail (or some other similar type of post) through the clamp where the threaded rod would've been. This nail was bent to secure the clamp and the original clamp lever was glued onto the end.
The Microflash nameplate was removed from the side. It was held in place by two tiny rivets therefore we presume the prop makers drilled them out. A D-ring was attached though a hole drilled into the black angled head of the flash just under the thumbscrew. On the middle band that held the unit to the side of a camera, a Light Emitting Diode display bubble type lens from a vintage calculator was slid into the clamp. Very few calculators have the correct 7 bubble lenses, so far only two models are known the Exactra 19 and the Exactra 20. These were introduced by Texas Instruments in 1974 and are referred to as 6 digit displays (only six of the spaces are used for numbers, the leftmost is for modifiers like a negative sign). These lenses are 2 inch long clear strips with a row of convex lenses referred to as "bubbles" that magnify glowing red display. For this prop a normal 7 bubble lens was cut down to a length of 1 1/2 inches leaving only 6 bubbles.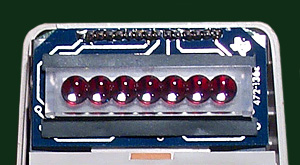 Texas Instruments Exactra 20 interior detail
Photo: Justin of World Famous Comics
Like the Skywalker saber of A New Hope the Darth Vader saber also has seven 3 5/8" long grips. The exact identity of the grip material has yet to be determined, but recent revelations suggest hard black plastic T-track from old cupboards with sliding doors.
There was second Darth Vader lightsaber prop used in A New Hope. It's very similar to the version seen at top but with some subtle differences. The second MPP Microflash had black rectangular sidebars on the middle clamp. The lever was tightened a half turn and was on the opposite side of the clamp compared to the other lightsaber version. This version also had the clamp down low against the top of the grips.
The first Darth Vader lightsaber
(Boarding the Tantive IV)

The second Darth Vader lightsaber
(Princess Leia's Interrogation)


Click for MPP Image Archive


Click Here for Lightsaber Grip Spacing Templates
in the Downloads Section