EPISODE I: THE PHANTOM MENACE

Attire:
Mask
Robes
Bandoliers

Weapon:
Gaderffii
Rifle
---
THE BANDOLIER
The Tusken Raiders of Episode I wear Swedish leather ammo belts as bandoliers. They feature 5 compartments with buttoned flaps and brass hardware. Originally designed for NATO 308 cartridges, each pouch is 3 by 4 inches.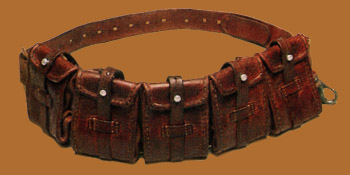 Swedish Leather Ammo Belt
The second bandoliers worn by the Tusken Raiders in Episode I although appearing more as belts are the same ones used in filming Episode IV: A New Hope, British Pattern 1903 Leather Bandoliers. They are made of brown leather with five 10-round pockets in the front. There are brass buckles for regulating the size and a strap for securing the lower end of the bandolier to the waistbelt (this strap was removed). This design of bandolier was made for only five years (1903-1908) though it saw many years of service after that.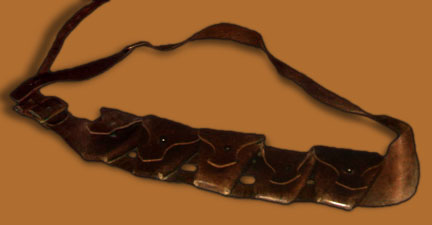 British Pattern 1903 Leather Bandolier
---
WEAPONS:
Gaderffii
Rifle
---
Item

Approx. Price

Available From

Sweedish Leather Ammo Belt
$28.00
Military Surplus Stores,
Mass Army Navy 1-800-343-7749 (#MBB002)
1903 Pattern Bandoliers
$34.95
International Military Antiques Inc.
Click on blinking indicator to left to find out about other supplies.