EPISODE I: THE PHANTOM MENACE
Used by:
Qui-Gon Jinn
Obi-Wan Kenobi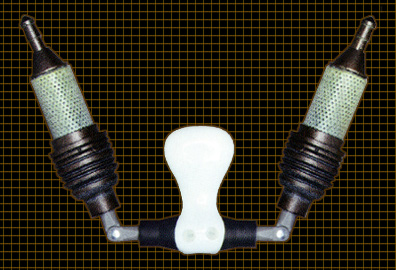 ---

To elude the Trade Federation forces invading the swamps of Naboo, Jedi master Qui-Gon Jinn and his apprentice Obi-Wan Kenobi are lead by "local" Jar Jar Binks to the hidden city of Otoh Gunga. The city is located deep within the waters of Lake Paonga, so the Jedi must use their A99 Aquata breathers for the journey. They carry these breathers in pouches on the backs of their belts.

310 Super Hinge Point by Robart
The gray hinges used on the prop are plastic hinges for RC model airplanes. They are 3/16" Super Hinge Points model 310 made by Robart of St. Charles, IL. They come in packs of 15 at any hobby shop. The tips of the hinges were cut off and attached to the ends of the 'air tanks'. The dark ridged section of the 'tanks' seem to be resin cast, but what they were cast from is not yet known.
We have not yet identified the mouthpiece though it does attach to black part with two white nylon flat head screws.
Item

Approx. Price

Available From

310 Super Hinge Point by Robart
$5.00 (30 pack)
RC Plane & Hobby Stores
Click on blinking indicator to left to find out about other supplies.