EPISODE IV: A NEW HOPE

Attire:
Black Vest
White Shirt
Blue Pants with Red Corellian Blood Stripe
Black Belt
Gun Belt with Holster
Black Boots

Accessories:
Droid Caller


Weapons:
BlasTech DL-44 Heavy Blaster Pistol
---
THE BOOTS
Like many characters in Star Wars, Han wears black riding boots with the smooth dress finish.
Shown above are East German military riding boots, however Han's boots fit tighter and were taller. Most likely they were commercially made equestrian boots.
---
THE VEST
Han is wearing a black vest modified from a black military BDU shirt.
---
THE BELT
Standard military surplus black belt with two sets of holes running the length of the belt
---
THE GUNBELT
The leather gunbelt with holster appears to be entirely custom made.
One item on Han's gunbelt is a green CO2 bulb for a Sparklets soda syphon. Other Sparklets soda syphon parts were used on props and set dressing in The Empire Strikes Back.
The two white boxes on the belt are not yet identified. They appear to be electronic components of some sort.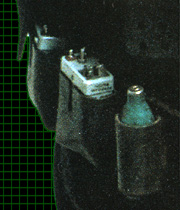 ---
WEAPONS
Note: There are two different versions of Han's blaster seen in A New Hope.
The first is the main version used throughout the film and the second was used only in a closeup shot in the Mos Eisley Cantina (and some promotional photos).
BlasTech DL-44 Heavy Blaster Pistol

Alternate Version

---
DROID CALLER