EPISODE VI: RETURN OF THE JEDI

Attire:
Helmet
Trenchcoat
Belt
Boots
Bandolier

Weapon:
Blaster Rifle
---
THE HELMET
The Endor helmets were made from WWII pilot summer flight helmets model AN-H-15. Most of them had four snaps on each side reinforced by black leather though other variations were used (For example: 3 snaps on each side and/or no leather reinforcement). The exact model info for the type most used is as follows:
SPEC. AN-H-15
EXTRA LARGE
Order No. 44-6446-AF
St. No. 8300-401500
BATES SHOE CO.
ARMY AIR FORCES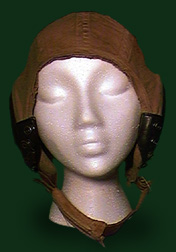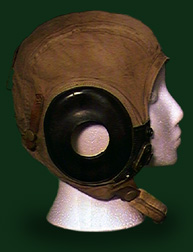 The AN-H-15 helmet shown above has had the small visor or bill removed from the front. On the Endor soldier helmets in the movie this visor was actually cut off, leaving about a 1/4" of it and the frayed edge. This was done because it would hang too low on the face, covering the forehead. The three leather straps along the back, originally used to keep the receiver cords back, were removed. On the right side of the helmet a brass hook (seen above), that was snapped on, has been removed. The hook was for attaching the face mask. The receivers (headphones) were not used. Black foam padding was used to plug the receiver holes. Two leather flaps were added just below the black receiver padding. Quilted ridges were sewn in a strip to the top of the flight helmet.
Around the helmet a custom vacuformed plastic "donut" shape was placed. It was painted olive drab with other details and weathering. A hard (possibly plastic) visor was attached just under the front of this plastic ring, it was covered in the same matching tan fabric used for the quilted ridges on top.
The design for the Endor helmets came from Nilo Rodis-Jamero : "I used to go to a surplus store, and I had seen a lot of helmets that were made out of cloth. So I bought some of them and adapted them to a new original design." -From Star Wars The Annotated Screenplays by Laurent Bouzereau, published by Del Rey.
Available from the official Star Wars site at mosespa.com
---
THE TRENCHCOAT
The Endor soldier trenchcoats were actually made from white lab coats dyed camoflage.
---
THE BELT
Though there may have been a few different belts used, the one pictured above is British standard issue with compartments for multiple magazines of 1902 Enfield 303 rifle ammunition.
---
THE BOOTS
The tan boots worn by the Rebel infantry were standard hiking boots, exact brand and style is not yet known. These same boots were used by many other characters including the Biker Scouts and the Mon Calamari crew of Home One (the ones with the tan uniforms). Leggings or spats were worn over the boots.