EPISODE V: THE EMPIRE STRIKES BACK
Used by: Boba Fett



---

Boba Fett's EE-3 blaster rifle is a modified Webley & Scott No. 1 Mark I flare gun as seen below.


Webley & Scott "1914" British 1.5"/37mm, No.1 Mark I Flare Gun
This flare gun was made by Webley & Scott for The Royal Flying Corps. Used for signaling aircraft from the ground, it has a detachable shoulder butt for increased accuracy and to protect the wrist from the recoil of the 1 1/2" ammunition. This was the first 1 1/2" (37mm) flare gun produced by Webley & Scott. Due to the need for fast mass production of flare guns during WWI, there was no time to design a new gun so this one was based on the frame of their Mark IV revolver. The Webley and Scott No. 1 Mark I flare gun was produced from 1914 - 1918.
Technical Info:
Weight: 3610 gram
Height: 157 mm
Barrel Length: 307 mm
Overall Length: 677 mm
The barrel of the blaster prop is an MPP Microflash manufactured by Micro Precision Products of England. All interior parts were removed from the 3-cell camera flash, stripping it down to a bare chrome plated brass tube. The Microflash nameplate was removed from the side. It was held in place by two tiny rivets therefore we presume the prop makers drilled them out.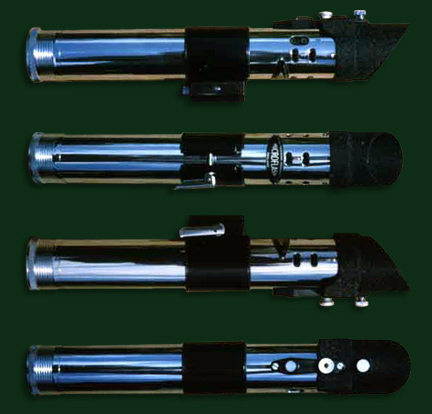 MPP Microflash - photo: Laszlo Beckett


Click for MPP Image Archive
Note: In early promotional photos of Boba Fett with his blaster the end of the barrel is capped with a 1 1/2" chrome hole plug (commonly used in plumbing). These photos were taken in the Cloud City hallway set.