EPISODE IV: A NEW HOPE
EPISODE V: THE EMPIRE STRIKES BACK
EPISODE VI: RETURN OF THE JEDI

Components:
Interior Parts

Accessories:
Restraining Bolt
SoroSuub C1 Personal Comlink
---
THE COSTUME
The protocol droid costume was sculpted by Liz Moore over a body cast of actor Anthony Daniels.
Nine different heads were created in clay to aide George Lucas in establishing the look of C-3PO. One was chosen and refined into the face we all know today. Tragically, Liz Moore was killed in a traffic accident in 1976 and never witnessed Threepio's popularity when Star Wars hit theaters.
C-3PO was given his golden color because of his more human nature. Lucas' initial thought was a chrome droid but Threepio's personality was much more human than his chrome automatons of THX 1138. The gold plating likened the droid to the color scheme of the human characters in warm tones of beige and brown. His right leg remained silver to give him a sense of history. The main body was fiberglass, the arms were aluminum while the head, hands and feet were all plastic. Under the costume Daniels wore a leotard and sailing shoes. The midsection was handsewn from thick ribbed rubber and detailed with miscellaneous wires and found parts.
---
COMPONENTS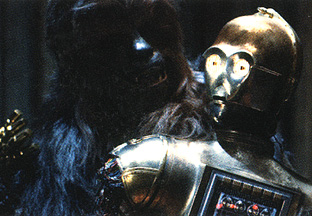 Chewbacca has some trouble with Threepio's backwards cranium.
In The Empire Strikes Back as Chewbacca struggles to put C-3PO back together he has the back panel open revealing two clear plastic parts from the Revell Visible V-8 Engine model. These two parts are cylinder head caps from the model kit, both are identified as part #18. Behind these parts are multiple red LEDs.


Part #18 of the Revell Visible V-8 Engine

---
ACCESSORIES